I cannot believe how windy it was when we woke up! Fortunately, the storms passed us and we didn't have to test out the hammock set up in the rain. I know we will someday, but for now, we are dry. The pack out was extremely quick and we were on the road within one-half hour. It was time to find breakfast and, more importantly, coffee.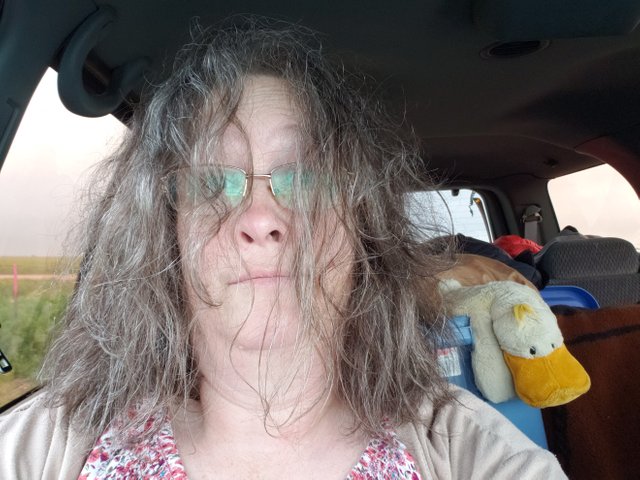 Scott and I love to travel, but our ideas of travel can be pretty different sometimes. For him a travel bucket list is things like National Parks, the ocean, and major places of natural beauty. I, on the other hand, love to go to the touristy places that are there to take your money and laugh as you leave with a cheap China knock off item. I know it is silly, but it brings back memories for me when I was a child I guess. Over the years I have taught myself to fight the urge to go into that tourist trap and spend money. However, I do have a tourist trap bucket list and we were able to cross off the Cadillac Ranch (aka Texas Stonehenge) as we headed out of Amarillo.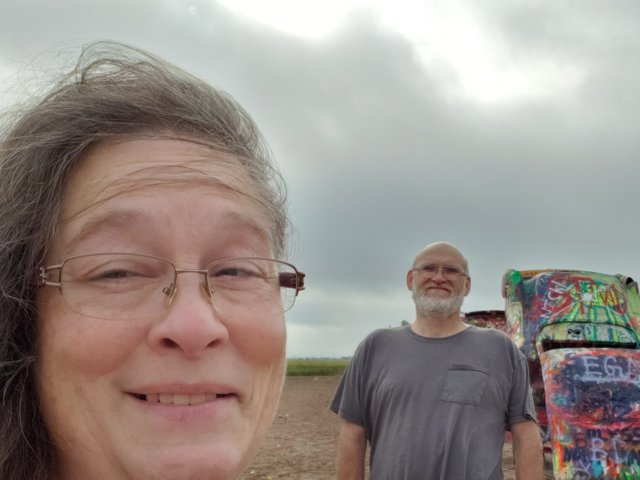 Cadillac Ranch or Texas Stonehenge in Amarillo.
This is one of the few places I condone defacing artwork. It is the graffiti and defacement that makes this place unique and interesting. In 1974 a farmer allowed a group to "plant" ten Cadillacs in one of his fields. Here people travel from all over to spray paint and decorate these monsters. They encourage you to take a photo of your creative artwork because it will disappear under layers of spray paint within hours.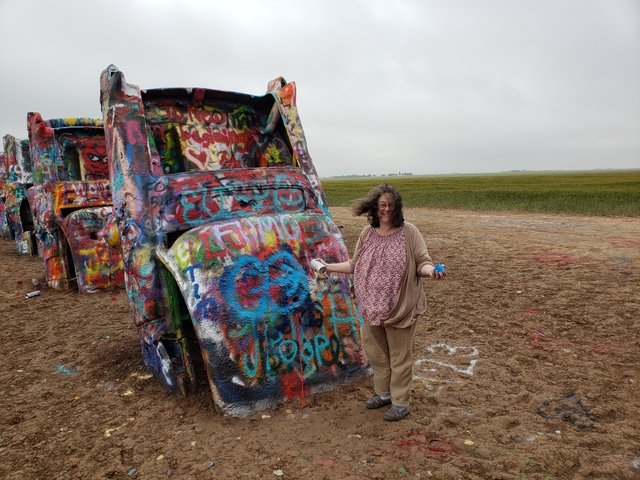 Leaving our mark!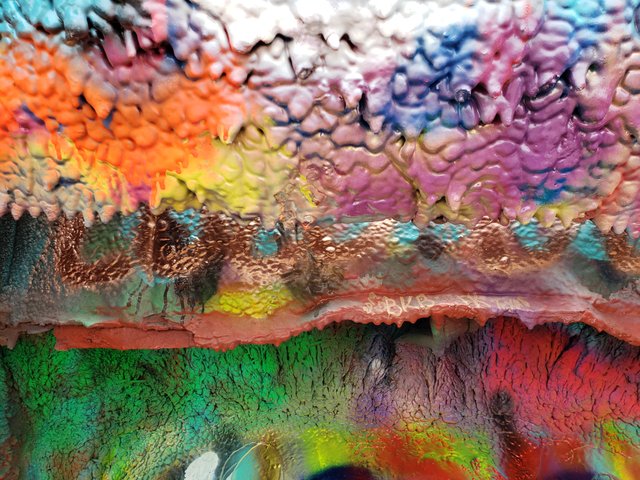 The Cadillacs have decades of spray paint, stickers, and artwork coving them.
Once we got our fill of spray painting cars, we headed on west towards our destination Albuquerque. We decided to take highway 40 so we would be able to get to our destination quickly. This meant we were going to bypass all of the New Mexico State Parks. Yes, this is unlike us, but we really wanted to check out the Albuquerque and Santa Fe areas. If we planned to move to the New Mexico area, we would have plenty of time to visit these locations and many others. The plan was to get to our destination as soon as we safely could and explore!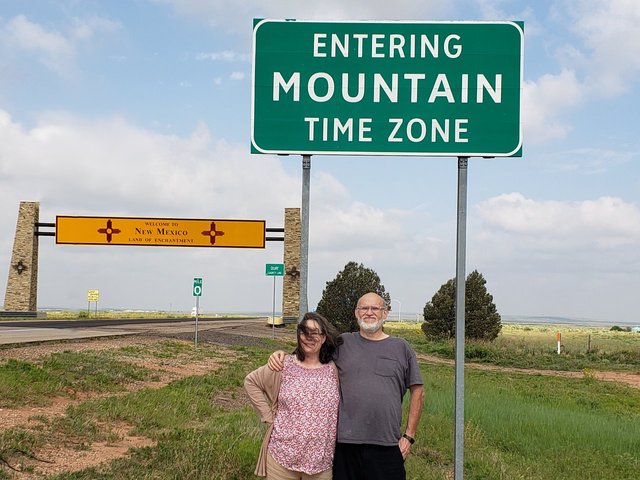 Love that we were in a new time zone as well as new state!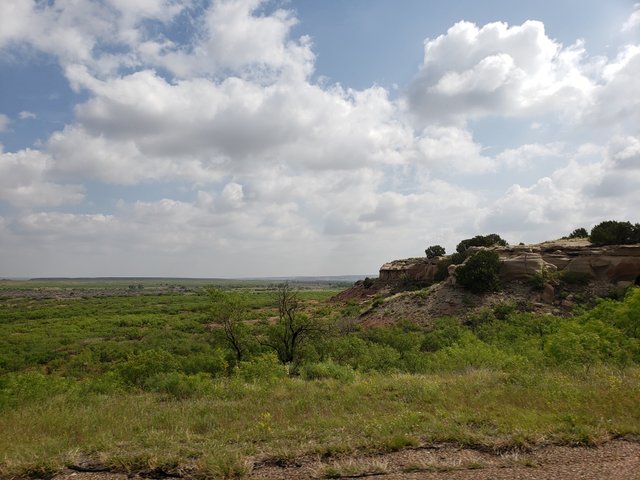 Amazing red rock landscape along Highway 40.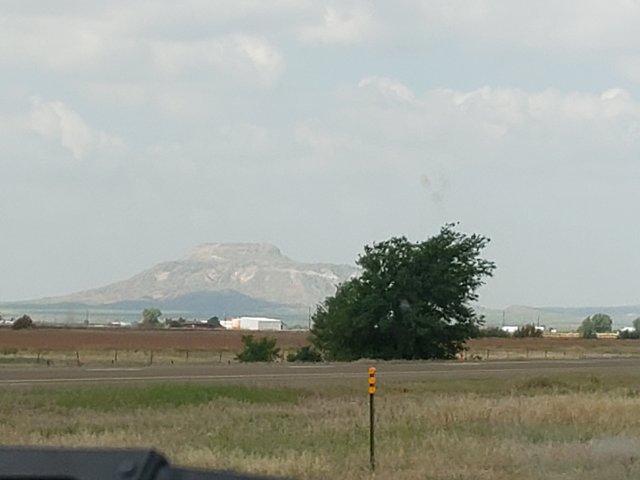 We got so excited to see a lone mountain along Highway 40.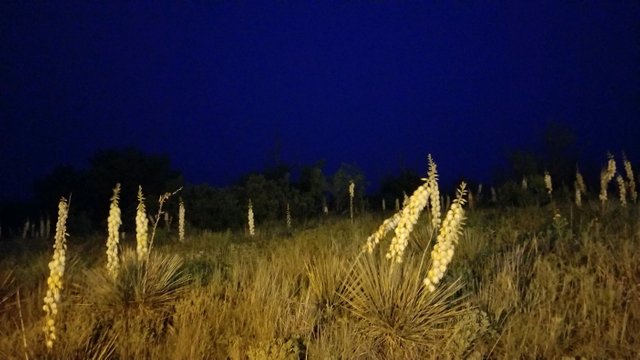 So many Yucca plants! Could this be New Mexico's wildflowers?
Both Scott and I have found we really love the scenery of New Mexico and West Texas. There is just something about the red dirt, the erosion patterns, and big skies. Scott is the one who just loves the big skies because he will be able to get some amazing night sky photos. I love the geology; I just love it and there is so much to see here! Another thing we like to see is the spring wildflowers of a state. For miles, the landscape was covered with Yucca plants and could be found in full bloom throughout our whole trip in New Mexico. It was a wonderful drive with plenty of places to stop every so often and have a break.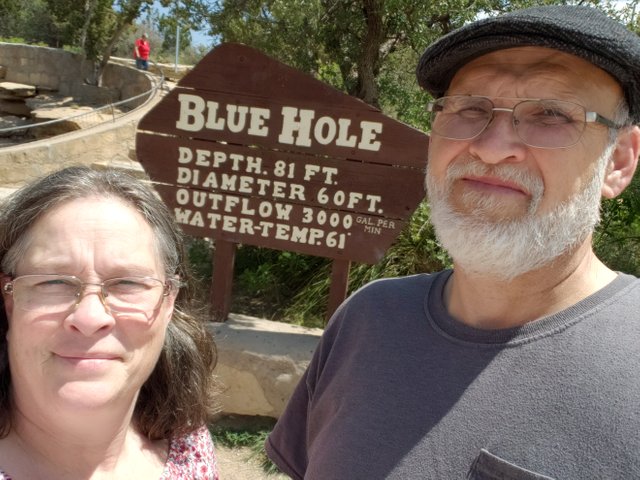 Another sign photo! Wheeeee!.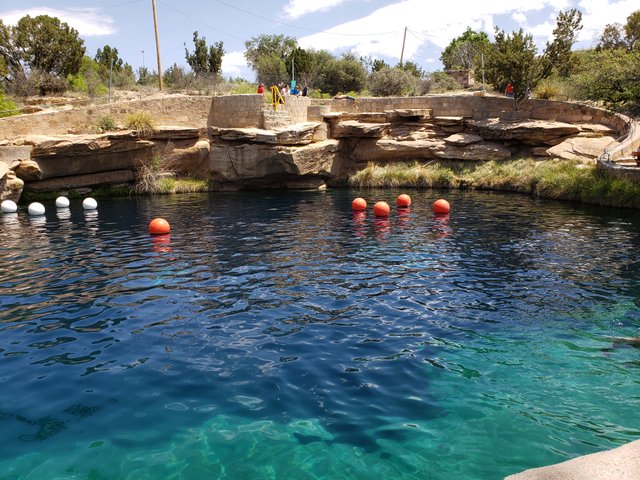 A scuba diver's bucket list location!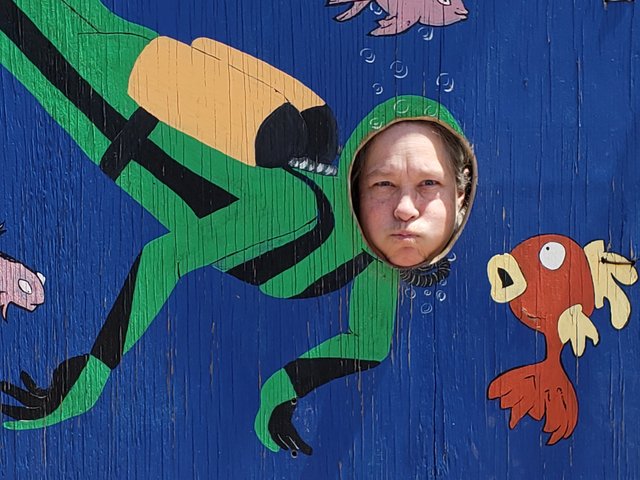 I decided to do a little scuba diving myself.
The place we decided to stop and eat some lunch and relax a bit was the Blue Hole in Santa Rosa, New Mexico. The Blue Hole is a local swimming hole that is quite unique. It is a natural spring that is 80 feet deep and a very deep blue! It is beautiful and quite cold. Here you will find many scuba divers because this is a prime location to learn about deep diving. I know, 80 feet being a place for deep diving? But this heaven in the middle of the desert is at 4,600 feet above sea level causing the diver to have to take the same precautions as if they were in the ocean. We watched many of them as they dived and it truly looked like a lot of fun. After sticking our feet in the very cold water, we headed onward to Albuquerque.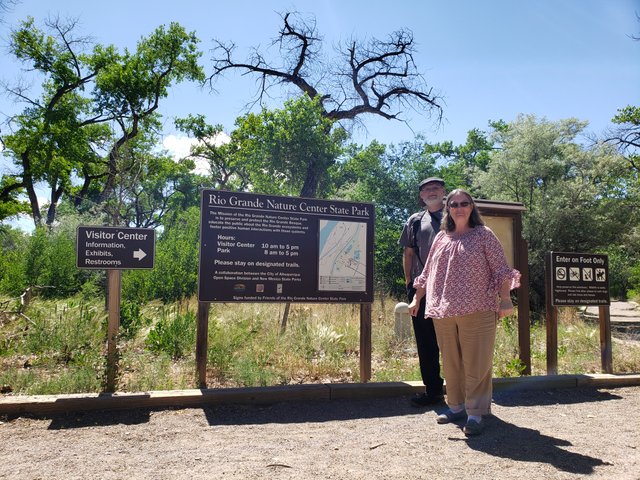 The obligatory state park sign!
Once we arrived in the city we may someday make our temporary home, we found a state park. The Rio Grande Nature Center State Park is a beautiful park that borders the Rio Grande. When we visited the Rio Grande at Rio Grande del Norte we saw a huge canyon and I expected to see something much like this, but this is not what we found. The park was full of trails that had a beautiful array of floral and local plants. Within the park, there was a nature center that explained how the river and local geology were created. There was a display of the local animals and a bird viewing room that was air-conditioned.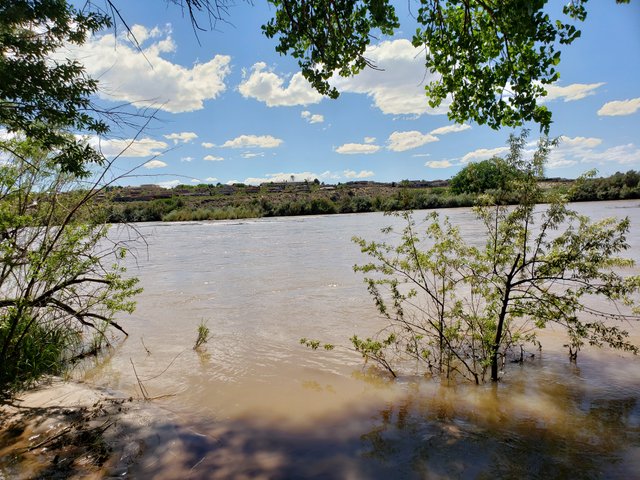 *And here we have the Rio Grande; no canyon this time.
The park was not right on the river, but it was a short walk. Even though it was rather warm, but we were stunned that it was pleasantly comfortable. We both enjoyed the walk and had a very nice encounter with Master Mokurai who was meditating along the trails. He had a poem from his book "Silent Thunder" for us and it fit very well to who we are and our journey. It was here we also met a wonderful couple who were able more than happy to share some amazing tourist spots. It was such an amazing visit to Albuquerque.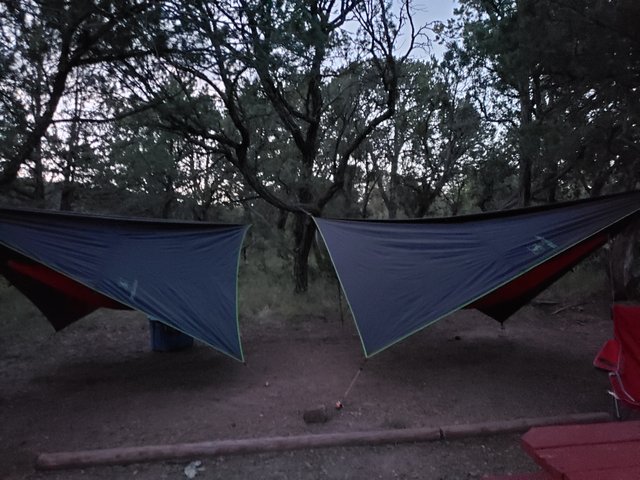 Our hammock camping set up.
As the evening approached we headed toward the area we decided to find a campground. While we ate dinner at the Greenside Cafe, we searched and asked if there was a place that would be good for hammock campers. The waitress handed us a map with The Turquoise Trail Campground. We found this place to be quite amazing. There were trees, mountains, and amazing people. This campground has two loops for those who camped in tents and a large loop for RVs. The bathrooms are clean and as nice, if not nicer, than many state parks we have visited. We set up our sleeping arrangements of hammock and tarp. It was quite comfortable and we were quite ready for sleep. The night would be chilly and we were ready for it; we hoped.


Thanks so much for traveling with us! More adventure to come.