The view from my front porch.
One of the things I looked forward to when we moved out to the lake was the opportunity to do more photography. I've done a fair amount of landscape photography, but the weather has not been cooperating for night photography.
This last Saturday morning I got my chance. It wasn't ideal, but it was good enough. The Moon was a few days shy of full, but was going to set a little after 4 AM. With the time change that gave me a bit over 2 hours before twilight. Being mid-March the core of the Milky Way would be rising about the time the Moon was setting.
I've talked before about the need for dark skies when doing astrophotography. How dark you need depends on what you are trying to do. We are only a few miles from Tulsa, and we certainly have plenty of light pollution, but there are still lots of possibilities in these conditions.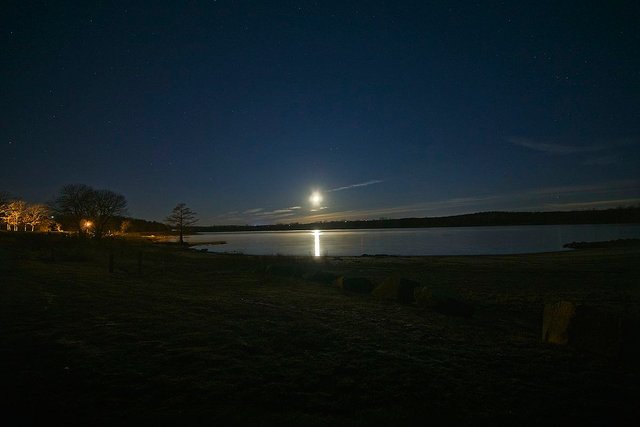 The Moon Setting over Lake Keystone
I got up about 3 Am and bundled up. The temperature was about 31 degrees. The key to being comfortable in cold weather is to wear lots of layers. One tip I've learned when photographing in cold weather is to pick up some hand warmers from HotHands. I cannot work my camera with gloves on, and having frozen fingers seriously diminishes my enjoyment. Toss a pair in your shoes and they keep your toes warm as well.
The Moon was still up, so I headed a few miles down the road to a small Corps of Engineers park named Cowskin Bay to get a photo of the moon setting over the lake.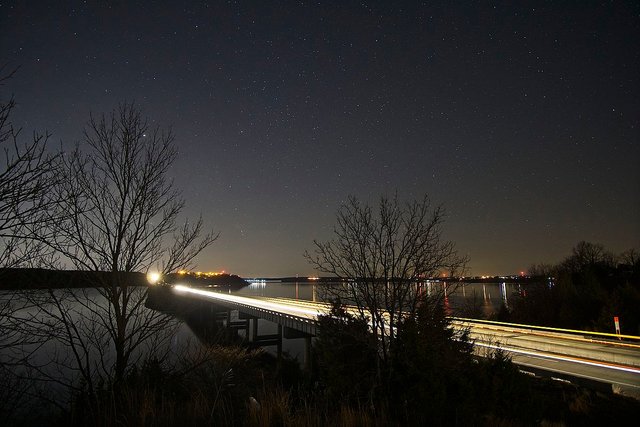 Highway 412 Bridge and Keystone Dam
We live on a peninsula in between two branches of the lake where the Arkansas and Cimarron Rivers enter the lake. A few miles east there is a bridge over the lake.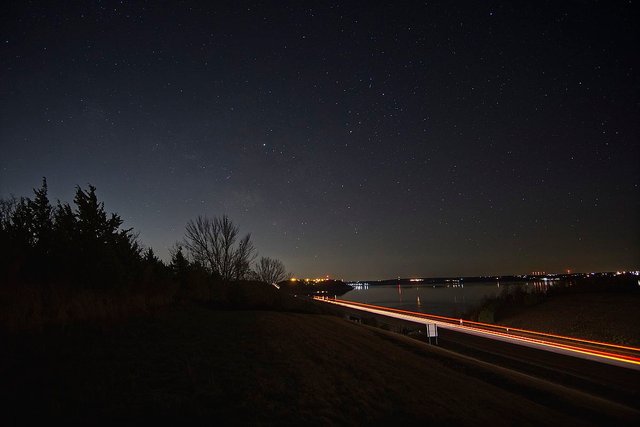 Highway 412 Bridge and Keystone Dam
From the bridge, you can see across the lake to Keystone Dam. Just above the road is a tall ridge, and ever since we moved out here I knew I wanted to get a picture from that ridge of the bridge, lake, and dam. It was more difficult to get to than I expected, I was carrying a camera and tripod, and the grass was covered in frost, making it a little slippery, but I made it to the top without falling.
If you look closely you can just make out the Milky Way rising over the bridge, but it's mostly lost in the light pollution.
The light trails from the traffic add a nice touch.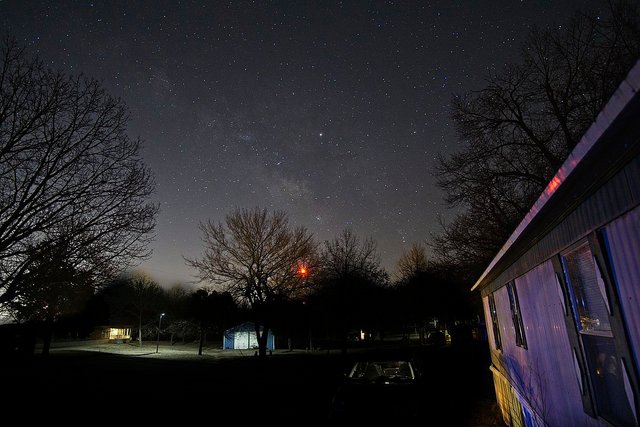 The Milky Way Rising in my Front Yard
It was getting close to twilight, but there was one more photo I wanted. A few days before when I was heading out the door to go to work, I noticed that the Milky Way was rising right outside my door. I didn't have time to do anything about it then, but I wanted to see if I could get a good photo that morning.
This was going to be a challenging shot. There is a lot of light outside our trailer, and it was going to be difficult to get enough light to image the Milky Way without overexposing the lights in the yard. Fortunaly there are tools to help with this.
I took a total of six photos exposed to avoid overexposing the landscape. Then I loaded them into some free Windows software called Sequator. If you are going to do astrophotography, then you want Sequator. I told it which parts were sky and which were land, then set it to align the stars in the sky, to reduce light pollution, and automatically adjust light levels. Essentially it stacked all six photos, giving me an effective exposure of about 2 minutes for the sky, but only added enough of the landscape to reach the proper exposure. It also reduced noise in the photos to produce a much sharper image. By stacking photos and aligning the stars, Sequator lets you do much longer exposures using an ordinary tripod than you could without it. And it's Free.
Thank you for taking the time to read this. We really appreciate it.