My father passed away on Tuesday, March 26, 2019, and the past few days have been hellish. Thursday was the viewing and my stress level was ridiculous. @scottf and I have found that when we are hit with extremely difficult times getting outside helps us keep our heads on straight and enables us to recharge and be able to focus on the important things. We decided to take our Grand George @akacarl with us and help him get away from the constant talk about my father's passing.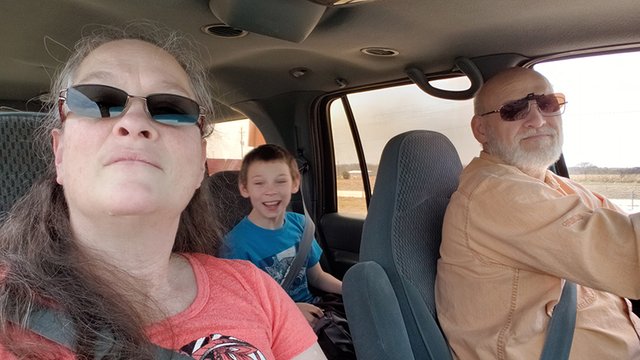 Heading out to Osage Hills State Park.
One of the things that Scott and I do at every state and national park is taking a photo of us in front of a park sign. We have been encouraging our Grand Georges to take the same type of sign photos so when they are older they will have a photo to remember this memory by. Sometimes this is a rather difficult thing, but not at Osage Hills State Park. The sign is on a natural sandstone platform and shows the type of geology you will find all over the park. The park is at the most southern end of the area called the Osage Hills, but are also called the Flint Hills in Kansas. The Osage/Flint Hills reaches from Oklahoma and into the middle of Kansas (you can find more information HERE).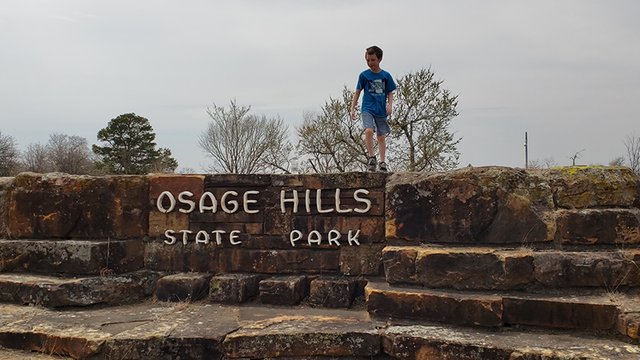 Enjoying the view.
We took Carl for a hike, hoping the sun and fresh air would do him some good. The Overlook Hiking Trail we started on is approximately three miles, but we only went a half mile in. Begging to go play in the river, we knew we had to get to the boy to the nature trail that runs along the river. So we turned and headed towards lower ground where the trail is much easier. That is a good thing for me!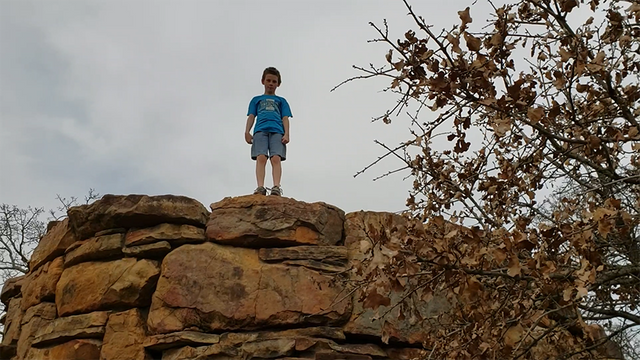 I guess he gets his love for cliff edges from me!
Sand Creek meanders through Osage Hills State Park showing the limestone and sandstone floor. Here you will find round river rocks that are perfect for throwing and skipping. Carl and I spent an hour throwing many rocks against the large limestone wall directly across from us. This was a very therapeutic activity for us both. I was feeling angry with myself for not being there more often to see my dad more often, while my little man was frustrated and angry as well. It was a moment we both needed and it helped us both, I do believe.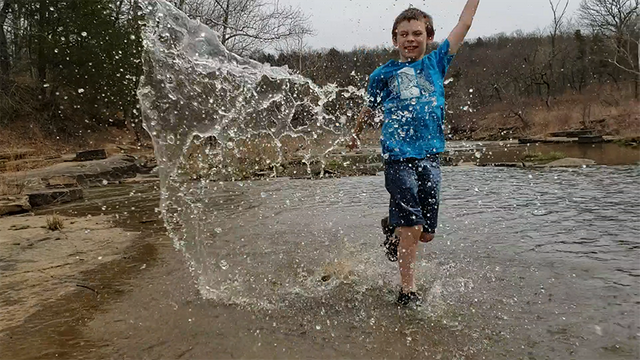 @akacarl loves the water and is willing to share it with anyone in his way.
March is not always the best time to play in the water when you live in Oklahoma. But this boy loves to play in the water, this day was no different than any other. The wonder and surprise to find such a beautiful place could be seen in his face as he surveyed the small falls. His questions were mixed with laughter as he slid on the slick limestone. "Do you know how deep this place gets?" "Can I play on the rope swing over there?" "Where are all the snakes?" I just thought my ears were going to fall off.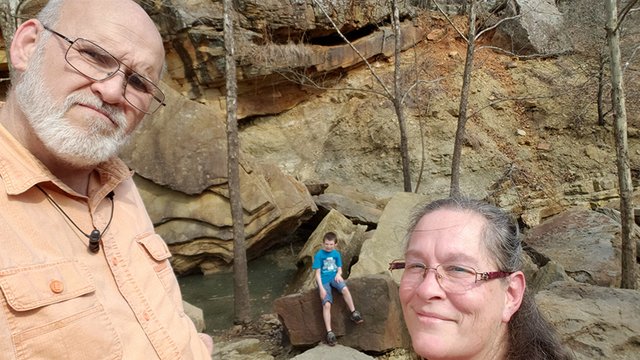 Taking time to get a photo of us three together.
By the time we made it to Carl's home we were all exhausted, but we were feeling a little stronger and better to deal with the path we have the coming days. Grief does not heal quickly, but days like this help to heal the soul.